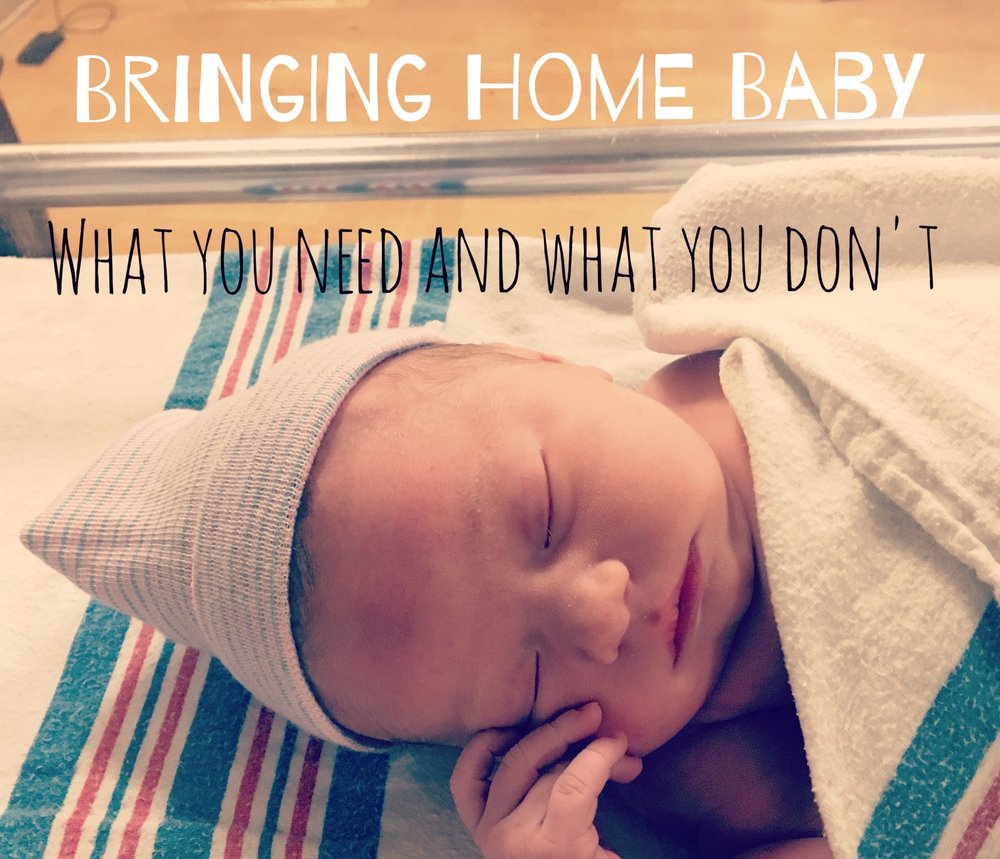 Well, as with many other blogs I've read, I've been a mom for 3 months now so clearly I know what I'm talking about (eye roll). I do, however, have a good idea of what helped us survive those first 3 months since it's fresh on my brain, and what things you can probably pass on for your registry. I have not received any compensation for the products mentioned below; these just happen to be the ones we have and like.
Must Haves
Nice-To-Haves
For this section, I've added some things that have really helped us out, but don't qualify as must-haves.
Collapsible Stroller (Chicco Liteway Plus) – Since our main stroller is listed in the section above, this one falls as a nice-to-have. This one collapses really quickly and easily, and is fairly light. It's still larger than "umbrella" strollers, but this one allows for our infant bucket to clip on (without an adapter), which makes it necessary for now. When I go to the grocery store I usually put her whole bucket in the cart, rather than dealing with pushing a stroller and a cart. But, for shopping somewhere without a cart, or for restaurants that don't have car seat slings, this one is great.
Mamaroo – This one falls down here, because if you already have a swing, this one is just an alternative. Also, some babies love them, and some can't stand them. Since it's on the pricier side, I'd wait to buy one until I could try her in one and see how she takes to it. I know people that swear by these, and we have found it useful when she doesn't want to be in the other swing.
Activity Gym (Infantino) – After your baby is about 1 month old, they will really enjoy batting at these toys. We have acquired lots of toys with rings that can clip on, so we have ones that jingle or vibrate in addition to the ones it comes with. This has been part of our daily routine, until she has started rolling over.
Owlet – This one is really neat; it's like a hospital pulse/oxygen monitor that straps onto her foot, and a base station with an alarm if her vitals drop. The risk of SIDS is scary at any time, but especially for a new mom. During her first couple weeks, this gave me the peace of mind to go sleep in my bed with her in the other room, knowing I would hear the alarm over the monitor if something happened. Even when I did sleep in the same room as her, I could look up and see that the monitor was green and not get out of bed to check that she is actually breathing (new moms… you know it's true.) This is a new product, so it isn't perfect; and I had a false vitals alarm once when it wasn't strapped on her foot tightly enough (there is a different alarm that happens if it just falls off, but it's very secure unless she's kicking like crazy). It doesn't work when she's in a swing, and it isn't intended for co-sleeping. And it isn't cheap. Mark doesn't think it was worth it, but I stand by it. I plan to start using it again when she starts sleeping in her crib and can roll over. If you want to splurge and are a worrier, this may be a good option for you.
Bath Tub (Fisher Price) – This one is nice because it has an infant sling that you can remove once they're old enough to sit up. Speaking of bath time…
Bath Kneeler (BackJoy) – I actually tried every bath kneeler on the floor of Buy Buy Baby when I was 9 months pregnant (needed help getting up haha) and this one was hands-down the best.
Don't Need
I'm sure I'll offend someone in this section, if their favorite thing appears down here. Well, these are the things we have been perfectly happy without. If you want to get them anyway, go for it.
Changing Table – We ended up getting a dresser at IKEA (be sure you anchor it to the wall!) and put a changing pad on the top. No need for a single purpose changing table. She'll be able to continue using this dresser once she's dressing herself.
Bassinet – This also falls into the category of single-use furniture that's unnecessary, if you use a Rock-n-Play for sleeping. You also don't need the bassinet attachment for a Pack-n-Play, since the Rock-n-Play travels so easily.
Bottle Warmer – We got one of these, and haven't used it once. You want to avoid over-heating the milk to keep all the good stuff in there; that's why you don't warm up bottles in the microwave, they warm unevenly and could cook it. What we always do is just warm it up under luke-warm water in the sink. Reviews for bottle warmers say they can potentially heat unevenly, so since we've been fine without it, we haven't risked it.
Baby Laundry Detergent – The Free & Clear version of standard laundry detergent works fine for baby clothes. Only babies with severe skin sensitivities would have an issue with Free & Clear detergent. Fabric softener is not recommended for baby clothes, though.
Car Seat Accessories – We got a couple of the car seat upholstery protectors (that go under the car seat), and ended up returning them. Most car seat manufacturers say putting anything in the seat not made by the manufacturer, or between the seat and the car voids the warranty, and are unsafe (can cause the seat to not get a tight enough grip). While I'm sure 99.99% of the time it would be completely fine, we ended up deciding being safe is more important than not scuffing our car's upholstery. Once she starts eating, there will be far worse damage anyway, I fear.
So that concludes my recommendations for 0 – 3 months! What newborn items could you not live without?