Well, hello everybody! I've been pretty much the worst blogger ever this year; this has turned more into a quarterly/semi-annual blog than something to actually keep you up to date on what's going on. Well, I suppose I haven't deleted it yet. Speaking of, welcome to eknightmusic version 2.0! Probably doesn't look entirely different, but wordpress has been replaced with just html and jquery.
In other news, finished my first 6 months at GM! I'm taking the rest of the month off, so I'm looking forward to probably even longer of a break than I had while teaching. No plans other than visiting friends/family, but I'll probably do plenty of crafting. I just bought 7 wall frames at Hobby Lobby, so I now have even more reason to get some pieces done. I'm signed up to have an artist table at Game Over's Classic Game Fest 2014 in August, so I'm getting my big items prepared. I posted a while back about my "classified" project, so I can post about it now! Keep your eyes peeled in bookstores for "Star Trek Cross-Stitch" (or check it out on Amazon). It's a book full of Star Trek cross stitch patterns, and I stitched the sampler that is pictured in the book. Bonus points if you tell me the misprint they made on my name!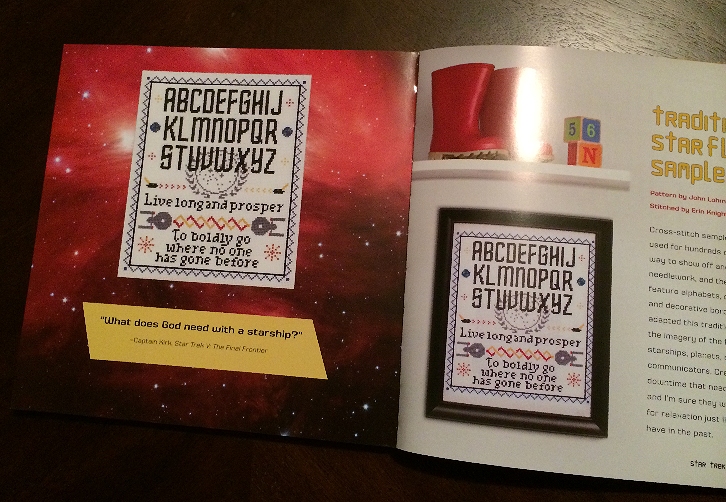 There's another secret book in the works that I'll hopefully be stitching another sample for. In other other news, we started remodeling our guest bathroom. We put down the tile in a weekend, and have been stuck getting it finished since then. We want to order a new countertop, but mostly have just been forgetting about it since we never go in there. Hopefully we can get it done over the break. Oh! While at Lowe's getting remodel stuff, we got a new Stanley Plant! This one's all grown up, so I generally call him Daddy Stanley. Thinking about letting him take over Stanley's old Facebook page.
I think that mostly sums it up; I've been pretty busy with work and crafts. Life's good! Tasha and Mark are good. Looking forward to a break, I'm pretty exhausted right now. We already watched all three Lord of the Rings extended editions over Thanksgiving break, so I don't know what to watch 🙂 . Need to come up with some series' to keep me occupied while I stitch. Ooh, also working on the t-shirt quilt of all my high school shirts. Hopefully will finish that over the break, too. That may warrant another post.