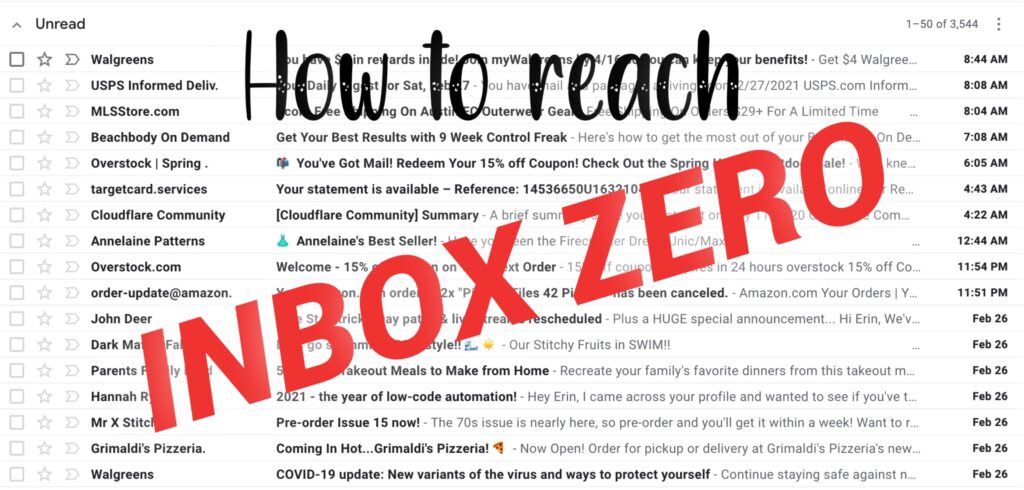 If you're like me, you have a LOT of emails in your inbox. Like, thousands. If you're also like me, this bothers you, but scrolling through and selectively deleting every email is something you don't have the time or patience for.
Well, I've found a process that helps speed this up, whether you're trying to sit down and knock it all out at once, or want to just do a little bit each day and make big strides at reducing the clutter.
1. Unsubscribe from mailing lists you don't care about
This seems obvious enough. (Mostly) gone are the days of being afraid to unsubscribe, because you will be "letting them know" they've found a real address. Most companies/individuals use marketing software that will legitimately remove you from the list if you bother to ask.
But what if the emailing lists you are on you do want to receive, so you're aware of sales, news, updates, etc? Then move on to step 2.
2. Instead of deleting a single email, search your inbox for that term/sender and delete all of the results
The thought is like roaches; if you have one, you probably have a bunch. Now you can save time by deleting things in batches. The trick is to include the in:inbox term to your search phrase. This will make sure you're only clearing out your inbox; and not your archives or other things you have filed in other folders/labels. It helps to copy "in:inbox" so you can paste it after whatever you type for your next search.
Here I've searched for "Kickstarter" (specifically, kickstarter in:inbox). Sometimes I care about these updates when they arrive; usually not. Select all, scroll through the list and de-select anything that you don't want to delete, and hit that satisfying "delete" button.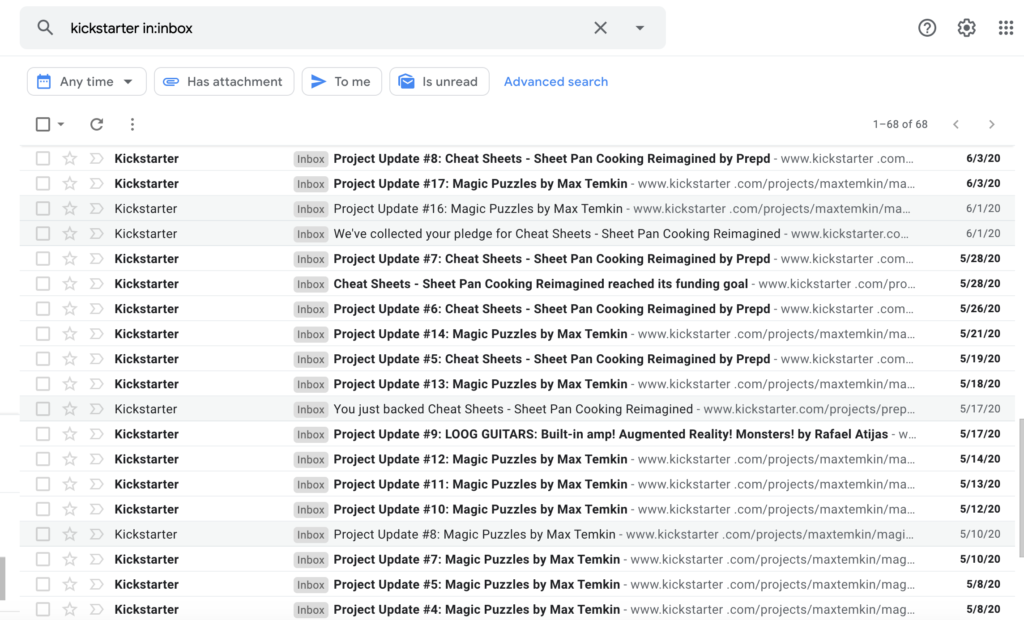 Sometimes this process works perfectly, and you want to delete everything that comes up. Sometimes, your search term turns up some other results. This is actually a good thing, if they happen to be other junk I care to delete. But if the term was too vague and is taking too long to scan for "do I delete it or not?", the you can also add from: in your search term (like from:kickstarter in:inbox) to narrow it down specifically to that sender. I generally like casting a wide net though, because then i'm clearing out bigger chunks at once than necessarily searching for each sender individually. This can also give you a hint of what term to search for next (definitely going to try Biden in:inbox).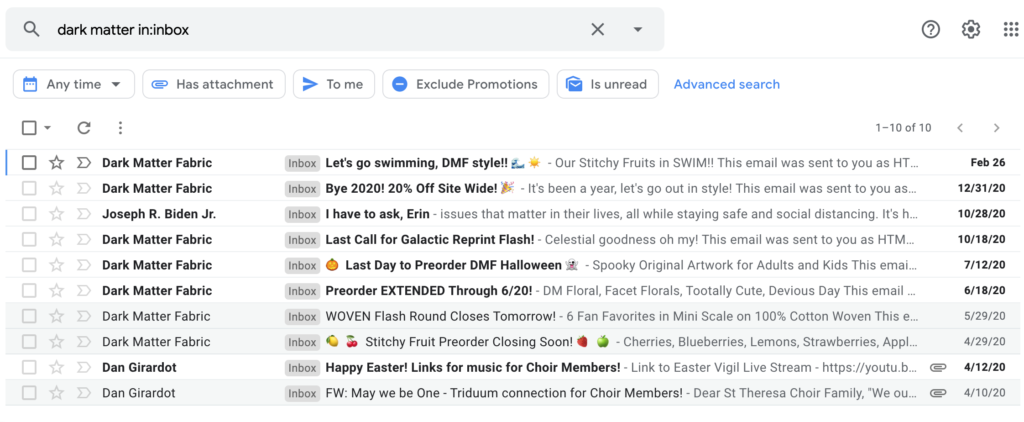 Then, once you've deleted everything appropriate for that term, if there are still any items hanging on that you did want to keep, select all and hit archive. Now everything related to that term is gone from your inbox.
3. It's ok to let it go ?
This one, if you're like me, is sometimes the hardest. I'll admit, I do archive receipts, order tracking, account creation, etc., because occasionally I do need to search "when did I buy that thing?" or "why hasn't X shown up yet". But the confirmation of a Zoom meeting I had once? Yeah let that go. Once you start deleting, it feels pretty good.
And that's really all there is to it! This process is simple and addictive once you see your inbox number dropping hundreds at a time. If you just want to add this habit into your daily routine to clear it out a little at a time, then instead of deleting today's single junk emails, search your inbox and delete all related junk emails. You can set a daily target inbox number if you want; like today I want to get it below 4500. Then tomorrow, 4000. And without specifically investing a huge chunk of time, you, too, can reach inbox zero.
Or, you may be hooked to the process and knock it all out at once. It goes surprisingly quickly once you get the hang of it! Good luck conquering your towering inboxes.